NOTICE: You can now keep up with Fala at FDR's Fala.
---
FDR's Fala, World's Most Famous Dog

---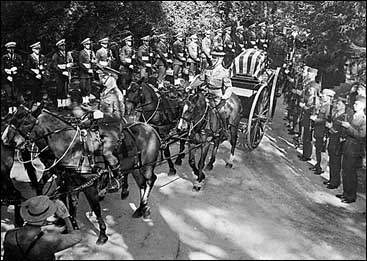 (FDR Library photo, 1945)

Farewell to a Friend
April 15, 1945: "The president's seventy-eight-year-old pastor, Reverend George Anthony, recited the familiar lines: 'We commit his body to the ground. earth to earth, dust to dust.' The West Point cadets raised their rifles and fired three volleys. After each volley, (Eleanor's friend Trude Lash) noted, Fala barked, a child whimpered, and then it was over." --From "No Ordinary Time" by Doris Kearns Goodwin
"Franklin Roosevelt's shaggy black Scottie and near constant companion rode his master's funeral train from Warm Springs to Washington...Five-year-old Fala attended the Hyde Park burial services with his former mistress, the President's cousin Margaret Suckley...cowered and whimpered at the gun salute [and] rolled over on the grass (the President's favorite Fala trick) during the hymn. In spite of barking furiously at the parting volleys, he was led away quietly at the end--still the best-behaved of Roosevelt pets (predecessors nipped ex-Senator Hattie Caraway and wolfed down a dozen plates of ham & eggs from the servants' dining room)."--TIME, April 23, 1945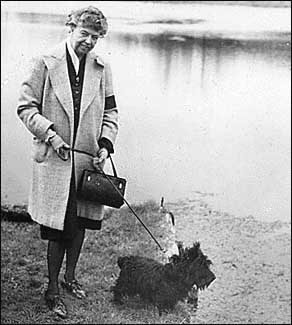 (FDR Library photo, 1947)
Fala Never Forgot
"Readjustments in one's inner life have to go on forever, I think, but my main decisions probably were made by the end of the first year. It was Fala, my husband's little dog, who never really readjusted. Once, in 1945, when General Eisenhower came to lay a wreath on Franklin's grave, the gates of the regular driveway were opened and his automobile approached the house accompanied by the wailing of the sirens of a police escort. When Fala heard the sirens, his legs straightened out, his ears pricked up and I knew that he expected to see his master coming down the drive as he had come so many times. Later, when we were living in the cottage, Fala always lay near the dining-room door where he could watch both entrances just as he did when his master was there. Franklin would often decide suddenly to go somewhere and Fala had to watch both entrances in order to be ready to spring up and join the party on short notice. Fala accepted me after my husband's death, but I was just someone to put up with until the master should return. Many dogs eventually forget. I felt that Fala never really forgot. Whenever he heard the sirens he became alert and felt again that he was an important being, as he had felt when he was traveling with Franklin. Fala is buried now in the rose garden at Hyde Park and I hope he is no longer troubled with the need for any readjustments."
--From "On My Own" by Eleanor Roosevelt, 1958
Eternal Hope
"In the midst of her labors, Eleanor took unexpected comfort in Fala's return to the Roosevelt household. Shortly after the funeral, Jimmy Roosevelt had written Margaret Suckley and asked her to send Fala back. 'In talking to my sister and brother, we all feel very disappointed that Fala is not staying with Mother,' Jimmy wrote. Fala was part of the family," and it would make Mother 'very happy to have him back.' Suckley agreed, and Fala came to live at Val-Kill. Soon he and Eleanor became inseparable. Fala accompanied her on her walks through the woods, sat beside her chair in the living room, and greeted her at the door when she came home. 'No one was as vociferously pleased to see me as Fala,' she noted proudly after a trip to New York. Still, Fala missed the president. When General Eisenhower came to Hyde Park to lay a wreath on Roosevelt's grave, Fala heard the sirens of the motorcade and thought his master was returning. 'His legs straightened out' and 'his ears pricked up,' Eleanor noted; he was hoping to see his master coming down the drive."
--From "No Ordinary Time" by Doris Kearns Goodwin
After FDR died in 1945, Fala went to live with Eleanor in Val-Kill. When Fala passed away in 1952, he was buried near FDR in Hyde Park, N.Y.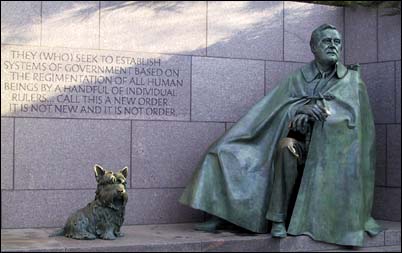 Fala by FDR at the FDR Memorial, Washington, D.C. (Bushy Barney photo, 2001)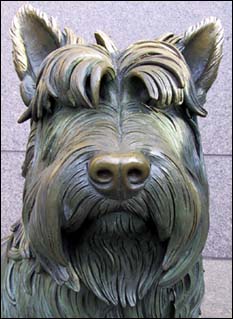 (Bushy Barney photo, 2001)

Visit Barney, the current White House Scottie


Bushy Barney Home | Fala-FDR Home | Links | Email